Content Feeds with Zapier
Advocacy programs start and stop with content distribution. Discovering and sharing relevant stories is critical for a program's success. Bambu's content automation process increases efficiency by surfacing relevant news and announcements across trusted sources.
Set up a Zapier Account
Zapier is a tool that enables Bambu's API to communicate with software applications, allowing you to direct RSS Feeds to Bambu and create content workflows.
To add content sources to Bambu after you've created a Zapier account, you must identify a trigger (content source - cause) and action (effect - navigation to Bambu).
Set up a Content Feed
Step 1: Make a Zap
Name your content source (e.g. Sprout Insights) and select the origin of the trusted source (e.g. RSS Feed).
When you've completed the Trigger, you will you see a display that indicates Your Zap currently lacks an Action step.
Step 2: Set up your Action Step
Retrieve the API key by navigating Company Settings > Advanced > Configure Sources.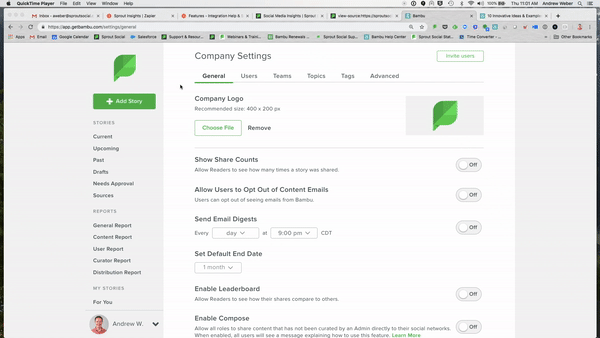 In Zapier, begin the Trigger setup by selecting Add a step.
Step 3: Designate Bambu as the Action App
To create an automated draft, select Create Source. You will be prompted to map the feed to your Bambu instance. There, you can connect an account, enter your API Key, and name your Bambu instance.
Step 4: Finalize Content Feed Setup
You will see several editing options available to you. These include assigning:
A Curator
A URL (Link)
Message Idea
Title
Author
Excerpt (Story Preview)
Content (Body of Story)
Note (Article Summary)
Tag
Topic
New stories will be directed to the Sources tab and the Current feed within Bambu.